FC Sonora sold the winning Conquistadores car raffle ticket to Arturo Medina — he'll drive away in a new car and FC Sonora scores $500 for selling the winning ticket!
A huge thank you to the Conquistadores for their long-term support of our scholarship fund. Literally, thousands of our players have benefited from their help while our teams have earned money by selling the raffle tickets. It's a win-win-win — especially for Arturo!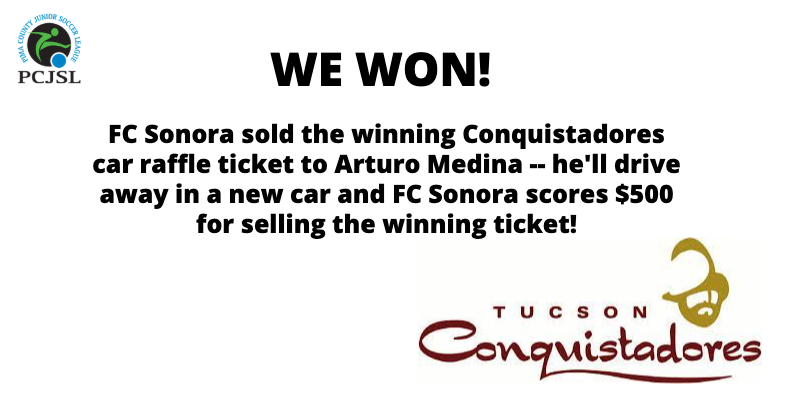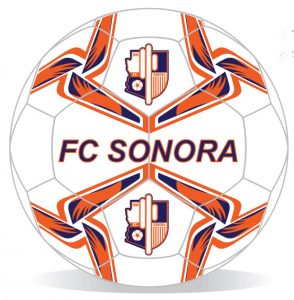 Our Youth Program is growing! We are expanding to include Silverlake Park starting in September! Please select either Himmel or Silverlake for "Field Preference" when registering.
Develop a soccer club committed to player development, sportsmanship and teamwork through positive coaching and parent support.
The game is for the players; therefore, the player's developmental needs are always the primary focus. 
Since 2010, we've focused on teaching skills and an understanding and love for the game.
Have questions? Just drop us an email or call!
PO Box 41414 • Tucson, AZ 85717
| | | |
| --- | --- | --- |
| Position | Name and Email | Phone Number |
| President | Jesse Felix | (Board Member) 520-982-7377 |
| Vice President | Chris Cox | (Board Member) 520-225-9518 |
| Treasurer | Ashley Fletcher | (Board Member) |
| Secretary | Open |   |
| Director of Coaching | Gabe Rocha | (Board Member) |
| Registrar/Registration Questions | Dolores Felix | 520-661-2364 |
| Fields Director | Dan Roth | (Board Member) |
| Tournament Director | Chris Cox | 520-225-9518 |
| Communications Director | Jesse Felix | (Board Member) 520-982-7377 |
| Youth Program Coordinator | Open |   |
| Uniform and Equipment Coordinator | Open |   |
| Graphic Design | Gustavo Rocha | (Board Member) |
| Website Support | Renee Olmos | (Board Member) 520-344-2254 |
| | | |
| --- | --- | --- |
| Position | Name and Email | Phone Number |
| President | Jesse Felix | (Board Member) 520-982-7377 |
| Vice President | Chris Cox | (Board Member) 520-225-9518 |
| Treasurer | Ashley Fletcher | (Board Member) |
| Secretary | Open |   |
| Director of Coaching | Gabe Rocha | (Board Member) |
| Registrar/Registration Questions | Dolores Felix | 520-661-2364 |
| Fields Director | Dan Roth | (Board Member) |
| Tournament Director | Chris Cox | 520-225-9518 |
| Communications Director | Jesse Felix | (Board Member) 520-982-7377 |
| Youth Program Coordinator | Open |   |
| Uniform and Equipment Coordinator | Open |   |
| Graphic Design | Gustavo Rocha | (Board Member) |
| Website Support | Renee Olmos | (Board Member) 520-344-2254 |